Sync your iPhone, iPad, Android, Mac, and PC
Want to Sync your iPhone, iPad, Android, Mac, and PC in real time, with no wires? Advanced Technology Solutions whole heartedly recommends you have a look at our partners GetSync'd for the best solution around for keeping all of your email, contacts, calendars, and reminders is sync across all devices.
Here is a copy of their latest press release for your convenience…
FOR IMMEDIATE RELEASE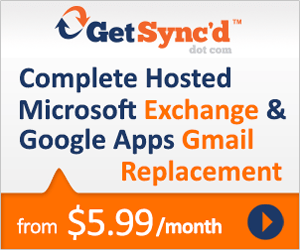 Interested in a Microsoft Exchange or Gmail alternative? GetSync'd, powered by Kerio Connect Business, offers new plans to suit a variety of requirements.
Cary, NC.– June 24, 2013 – GetSync'd (http://www.getsyncd.com) , a leading provider of a business class private alternative to Gmail, Google Apps, and MS Exchange has redesigned their website and expanded their offering in time for the recent release of Kerio Connect 8.1.
Kevin Davy, CEO of the company, commented,
"A lot of people are upset about Google sharing information with the U.S government. We want people to be aware that GetSync'd, powered by Kerio Connect, offers a secure, cost-effective, and private alternative for those using MS Exchange, Gmail, and Google Apps. Our newly designed website gives us an opportunity to tell those considering making a change  more about some features and benefits of using Kerio Connect from GetSync'd that we believe are important to businesses today. We've taken this opportunity to re-tool our pricing plans, too."
New Unlimited Small Business Plans and Dedicated Server Pricing
With the new site comes additional information about the features and benefits of switching to GetSync'd.  Not only is the cloud-based email solution compared aspriced significantly lower than many alternatives but it's highly collaborative with real time syncing, private IM chat and file sharing, and GetSecure, which provides protection from viruses, spam, and malware.  There are new plans with more disk space available than ever, plus unlimited small business plans, as well as new dedicated server pricing, as well.
"Private Google Apps, Gmail, and Microsoft Exchange alternative a No Brainer"
Mr. Davy also said that this solution is becoming known as a no-brainer for many small businesses who want a private Google Apps, Gmail, and Microsoft Exchange alternative that syncs wirelessly over a variety of devices, "Most companies need a private Google Apps, Gmail, and Microsoft Exchange alternative that is easy to operate in a heterogeneous environment.  We get that. Not only does subscribing to Kerio Connect from GetSync'd give you that but it gives you access to our stellar support team, too. It's a no brainer for companies who want a rock solid solution."
Best Kerio Connect Support
GetSync'd continues to get positive reviews for Kerio Connect support and offers support to customers as well as other Kerio resellers.  Learn more at http://www.getsyncd.com. Those who sign up can use it for the first 30 days for free without any commitment. GetSync'd is proud of their 90% retention rate after people take a test drive.
About GetSync'd
GetSync'd, a preferred Kerio partner, was founded in 2001 by Kevin Davy, and Scott Bowen. The NC-based company brings fully managed, business-class email, private company instant messaging, shared calendars, and contact management to most all email clients, IM clients, web browsers, and mobile devices at a fraction of the cost of alternatives. GetSync'd has offices in California and Canada and serves small and medium-sized businesses on a global basis. For more information about GetSync'd, please visit http://www.getsyncd.com.
Got questions? Contact (888) 447-9623 or press@getsyncd.com. Follow GetSync'd on Twitter at:http://twitter.com/getsyncd, on Facebook at: http://www.facebook.com/GetSyncd and check out the blog at http://www.getsyncd.com/blog. There's also a new video athttp://get.getsyncd.com/sync-iphone-android-mobile-dev that talks about the features and benefits of choosing to GetSync'd.
###